Studia Liturgica
An International Ecumenical Journal for Liturgical Research and Renewal

.
Studia Litugica is a peer-reviewed journal published twice a year. Founded in 1962 and now published by SAGE on behalf of Societas Liturgica.
Studia Liturgica's aim is to:
Encourage research in the field of worship and allied subjects and explore the pastoral implications of such research

Facilitate the exchange of results and other liturgical knowledge

To deepen the mutual understanding of the various liturgical traditions and seeks for ways to make clear the relevance of liturgy in the contemporary world
Follow the link below to the SAGE website for more information.
Subscribe Today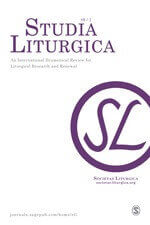 Assistant Editors
Kathryn Naylor, UK
Jennifer O'Brien, Australia
Shawn Strout, USA
Class of 2021
Júlio Cézar Adam, Brazil
Carmel Pilcher, Australia
Stephan Winter, Germany
Class of 2023
Rima Nasrallah, Lebanon
Frédérique Poulet, France
Shawn Strout, USA
The President

(

ex-officio

)
Societas Liturgica Co-Treasurers
Harvey Howlett, UK
Jason Lucas, USA

How to Submit a Manuscript
Die Redaktion ermutigt aktiv Artikel zur Veröffentlichung in Studia Liturgica die auf über verteilt wird 3,000 Institutionen auf der ganzen Welt und, thus, kann die gegenseitige Befruchtung der Forschung anregen, Ideen, Konzepte, Schlussfolgerungen unter Kollegen sowie tausenden anderen Menschen
Papiere aus verschiedenen Traditionen, Kulturen, und geografische Regionen sind ebenso willkommen wie illustrative Strichzeichnungen, Diagramme, Diagramme/Tabellen, und sogar kontrastreiches Schwarz & weiße Fotos.
Ein Manuskript einreichen, alle Autoren erstellen ein Konto in "SAGE-Track" wo dann Manuskripte eingereicht werden
Wenn Sie Hilfe bei der Einrichtung Ihres SAGE-Kontos benötigen, E-Mail an Rosie London, Assistant Editor bei SAGE für Hilfe – Details sind auf der SAGE
Die Veröffentlichung wird nicht garantiert, aber eine sorgfältige Überprüfung aller Papiere wird von Peer-Reviewern vorgenommen.