Studia Liturgica
An International Ecumenical Journal for Liturgical Research and Renewal.
Studia Litugica is a peer-reviewed journal published twice a year. Founded in 1962 and now published by SAGE on behalf of Societas Liturgica.
Studia Liturgica's aim is to:
Encourage research in the field of worship and allied subjects and explore the pastoral implications of such research
Facilitate the exchange of results and other liturgical knowledge
To deepen the mutual understanding of the various liturgical traditions and seeks for ways to make clear the relevance of liturgy in the contemporary world
Follow the link below to the SAGE website for more information.
Subscribe Today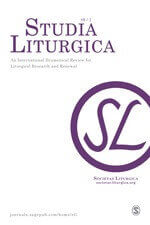 Assistant Editors
Robert Kelly, France
Kathryn Naylor, UK
Jennifer O'Brien, Australia
Shawn Strout, USA
Class of 2025
Kimberly Belcher, USA
Toshimitsu Miyakoshi, Japan
Leon van Ommen, Scotland
Class of 2027
Sarah Kathleen Johnson, Canada
Swee Hong Lim, Canada
Natacha Tinteroff, France
The President (ex-officio)
Societas Liturgica Co-Treasurers
Mary Clavin, Ireland
Jason Lucas, USA

How to Submit a Manuscript
The Editorial Board actively encourage articles for publication in Studia Liturgica which is distributed to over 3,000 institutions around the world and, thus, can stimulate cross-fertilization of research, ideas, concepts, conclusions among colleagues as well as thousands of other people
Papers from diverse traditions, cultures, and geographic regions are earnestly welcomed as well as illustrative line drawings, diagrams, charts/tables, and even high contrast black & white photos.
To submit a manuscript, all authors create an account in "SAGE track" where manuscripts are then submitted
If you need any assistance establishing your SAGE account, e-mail Rosie Londal, Assistant Editor at SAGE for help – details are on the SAGE
Publication is not guaranteed, but a thoughtful review of all papers will be made by peer reviewers.