Studia Liturgica
An International Ecumenical Journal for Liturgical Research and Renewal.
Studia Litugica is a peer-reviewed journal published twice a year. Founded in 1962 and now published by SAGE on behalf of Societas Liturgica.
Studia Liturgica's aim is to:
Encourage research in the field of worship and allied subjects and explore the pastoral implications of such research
Facilitate the exchange of results and other liturgical knowledge
To deepen the mutual understanding of the various liturgical traditions and seeks for ways to make clear the relevance of liturgy in the contemporary world
Follow the link below to the SAGE website for more information.
Subscribe Today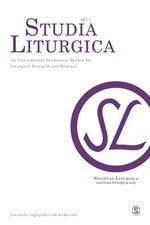 Editor in Chief
Peter C. Bower, USA
Assistant Editor
Jennifer O'Brien, Australia
Class of 2019
Harald Buchinger, Germany
Juliette Day, England/Finland
Gail Ramshaw, USA