Studia Liturgica
An International Ecumenical Journal for Liturgical Research and Renewal

.
Studia Litugica is a peer-reviewed journal published twice a year. Founded in 1962 and now published by SAGE on behalf of Societas Liturgica.
Studia Liturgica's aim is to:
Encourage research in the field of worship and allied subjects and explore the pastoral implications of such research

Facilitate the exchange of results and other liturgical knowledge

To deepen the mutual understanding of the various liturgical traditions and seeks for ways to make clear the relevance of liturgy in the contemporary world
Follow the link below to the SAGE website for more information.
Subscribe Today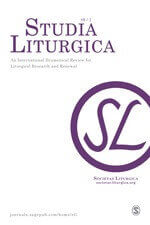 Assistant Editors
Kathryn Naylor, UK
Jennifer O'Brien, Australia
Shawn Strout, USA
Class of 2021
Júlio Cézar Adam, Brazil
Carmel Pilcher, Australia
Stephan Winter, Germany
Class of 2023
Rima Nasrallah, Lebanon
Frédérique Poulet, France
Shawn Strout, USA
The President

(

ex-officio

)
Societas Liturgica Co-Treasurers
Harvey Howlett, UK
Jason Lucas, USA

How to Submit a Manuscript
Le comité de rédaction encourage activement la publication d'articles dans Studia Liturgica qui est distribué à plus 3,000 institutions du monde entier et, thus, peut stimuler la fertilisation croisée de la recherche, idées, notions, conclusions parmi des collègues ainsi que des milliers d'autres personnes
Articles de diverses traditions, des cultures, et les régions géographiques sont les bienvenues ainsi que des dessins au trait illustratifs, diagrammes, graphiques/tableaux, et même du noir à contraste élevé & photos blanches.
Pour soumettre un manuscrit, tous les auteurs créent un compte dans "piste SAGE" où les manuscrits sont ensuite soumis
Si vous avez besoin d'aide pour créer votre compte SAGE, e-mail Rosie Londal, Rédacteur adjoint chez SAGE pour aide – les détails sont sur le SAGE
La publication n'est pas garantie, mais un examen approfondi de tous les articles sera effectué par des pairs évaluateurs.